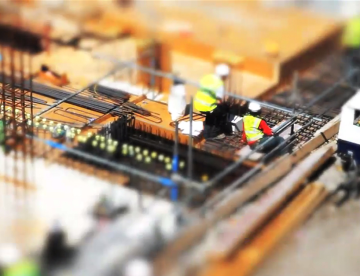 The art construction is one that marked progress along human history.
With technology and development of new material, it is today a field of innovation and unprecedented accomplishments. The boom of real estate and infrastructure that the United Arab Emirates witnessed has transformed the country's position and economic role in the region and in the world as pioneer in its field, bin said company is proud to have participated in that transformation and become a contributor to the growth and welfare of the country it belongs to.
A role the company adheres to since its establishment in 1993 Adapting to the fast track of progress and growth in the emirate of Abu Dhabi, and that includes the cities of Abu Dhabi and Al Ain, the company grew quickly with the advantage of a comprehensive team of engineers, a team that enjoys experience and creative thinking; not to mention the dedicated management and the loyal workforce; and last but not the least, the implementation of cutting-edge technology and modern equipment. Bin said company adopts environment friendly practices and internationally approved standards of safety, and enjoys a remarkable history of accomplishments in landmark projects in Abu Dhabi and Al Ain. The company's work is admired and praised by clients, consultants, and government related bodies.
Bin said company provides an inclusive scope of service. It does all types of finishing work, including painting, decoration, and general maintenance, for both its own developments and existing structures. The company provides these services for all kinds of existing residential, office, and public service build-ings. Bin said company works hard to maintain the high standards of service, safety, and accuracy that the company was established. The reputation that the company has built is one of the cornerstones of its position in the market. With its capabilities, record of achievements, and the trust of its clients, bin said company is considered today one of the most prominent companies in the field in the United Arab Emirates
General Manager Message
Since established, bin said company for construction and general maintenance strived to keep in step with new technology in the science of construction. This is one of the reasons that helped our company maintain its string of achievements in the construction sector.
Working in Abu Dhabi, the capital of the United Arab Emirates at the peak of city boom in real estate, cultural, and infrastructure projects; was great opportunity that allowed the company to establish itself on solid grounds. With its dedicated leaders, bin said company has only gone forward since then.
Bin said company has completed numerous projects along the years, and with varied types: residential, commercial, industrial, public buildings, compounds, schools...etc.
Some of what distinguish our company includes:
High quality maintained throughout execution
Adhering to clients specifications to achieve the projects objective.
Excellent maintenance services
Commitment to schedules
Management and technical team with long experience in the field.